Dermatology Blackrock Medical
We offer GP specialist services (consultations and minor procedures) to treat most dermatological concerns affecting skin, hair and nails. With short wait times, competitive fees and holistic approach – we pride ourselves in delivering excellent clinical outcomes as well as first rate patient experience in the community. GP referral is not required to access our care.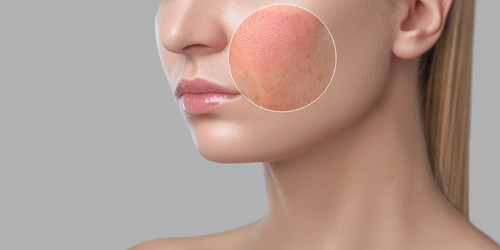 WHAT WE DO
The scope of our dermatological services include the following five main categories:
General Dermatology (all types of skin rashes)
Eczema, psoriasis, acne
Urticaria, pruritis
Atopic dermatitis, allergic and irritant contact dermatitis
Difficult to treat rosacea
Undiagnosed eruptions and rashes
Infective skin conditions, fungal infections
Other non-urgent dermatological concerns

 
A Patients Experience:
"I first met Dr Healy a number of years ago when I was suffering from folliculitis barbae caused by ingrown hairs due to shaving. This condition was causing me great torment as apart from the condition being unsightly it was quite painful. I had tried a number of off the shelf lotions and potions but when Dr Healy took over treatment she was quick to put me on a course of  roaccutane. She oversaw the treatment and showed further interest in recommending a varied shaving regime which mixed it up between wet and electric shaving.
She also recommended sea swimming as the salt water has good medicinal benefits! My skin has 100% cleared and I was delighted with the treatment I received which saved me from having to go on a long waiting list to see a dermatologist. I couldn't recommend Dr Healy highly enough, a thorough professional with a lovely clinical manner."  Patient, November 2020, Blackrock. 
Full Skin Examination Assessment
A full skin examination is performed on patients to assess pigmented and non pigmented skin (including moles).
This full skin check ( from head to toe ) is undertaken with a hand-held Dermoscope.
Dermoscopy refers to the examination of the skin with a hand-held device using surface microscopy. It allows the doctor to visualize lesions in much greater clarity, and making diagnoses based on pattern and pigment recognition.
It has reduced the need greatly for skin biopsy and excision.
It is used in the evaluation of pigmented and non-pigmented skin lesions.
In experienced hands, it will differentiate between benign moles, atypical moles and malignant ones ( melanoma ).
It  very useful in the diagnosis of pre-malignant skin cancers and non-melanoma-skin-cancers.
It is also a very useful took in the diagnoses of common rashes and inflammatory and infectious skin conditions.
Following a complete check, patients are quite often reassured and advised on skincare .
If abnormalities are detected, follow-up biopsies, excisions or tertiary referrals are made.
Depending on clinical risk, appointment intervals are estimated and follow-up appointments made.
Acne (incl. roaccutane prescribing)
Acne is one of the most frequently treated skin conditions in our clinic. We appreciate that Acne can be very distressing for our patients, negatively impacting not only their comfort and appearance but also detrimentally impacting mental health.
We take a 360 approach to acne treatment to include topical skincare treatment, dietary and lifestyle advice and the prescribing and close monitoring of Roaccutane treatment if necessary. Following a visit for your blood tests, all appointments can be conducted remotely if preferred. 
We offer a full range of acne treatments:
Skincare
Topical antibiotics/retinoids
Oral antibiotics
Hormonal treatments
Isotretinoin
"With a lot of experience in Roaccutane treatment, I have found it to be an extremely effective treatment for acne, when used properly in selected patients and under careful medical supervision.  It offers a permanent solution  to what can be a devastating skin issue for so many."  Dr Lena Healy.
Minor Surgery
Minor Surgery is any surgical procedure that does not involve general anaesthesia or respiratory assistance during the surgical procedure.
Minor Surgery procedures include, for example:
Lesion excision
Lesion biopsy
Incision and drainage of cysts
Treatment of epidermal lesions such as skin tags
Treatment with cryotherapy of appropriate lesions ( seborrheic keratoses,  skin tags, viral warts , pre-malignant UV lesions )
Scar subcision and dermal filler
Wedge excisions for ingrown toenails
It's advisable to wear appropriate loose clothing and not to partake in energetic activity following minor surgery. More concise information will be given by your Doctor on the day.
What to Expect - Minor Surgery
Minor surgery is usually carried out on an out-patient basis. Prior to any minor surgery the doctor will conduct an initial consult to confirm a diagnosis and a plan for the procedure and gain informed consent. The only part of minor surgery that may hurt is when the local anaesthetic is administered, after this the procedure is pain free. The length of time the procedure will take is dependent on the condition being treated and can range from 10 minutes to a half hour or more. Your doctor will also advise if more visits are required to treat your condition.
After Minor Surgery:
Should you have a wound, your doctor will give you instructions on how to look after it in order to keep it clean and free of infection until it has healed.
You may also need to take painkillers to relieve any discomfort or antibiotics to prevent infection.
After some minor surgery you may feel a little faint or uncomfortable and may need someone to take you home
You will be given a follow-up appointment and you may also need to have stitches removed
For some procedures it is also normal to send off a tissue sample for histology. Your doctor will follow up with the results.
Aesthetic Dermatology 
"For me, Aesthetic Dermatology is about enabling my patients to look a little fresher, younger, less tired, more invigorated, more natural.  The face that people look at and wonder - did she? Or does she just look great...  A light touch in all the right places..." Dr Lena Healy
Cosmetic / Aesthetic Dermatology Treatments:
Facial Rejuvenation Injections - Botox and Mesotherapy
Mesotherapy is a collagen stimulating non surgical skin rejuvenation treatment that targets fine lines and wrinkles for a more youthful appearance.
€200.00- €350.00 ( frown lines and crow's feet )
€250.00 ( jaw contouring )
€250.00 ( TMJ Dysfunction )
€400.00 ( axillary hyperhidrosis )
Mesotherapy - €300
Dermal Fillers
Juvederm Voluma €300.00 per 1 ml
Juvederm Vobella €300.00 per 1 ml
Juvederm Volift  €200.00 per 0.5ml and €300.00 per 1 ml
Juvederm Smile €350.00 per 1 ml
Our Clinical Lead
DR LENA HEALY
Dr Lena Healy is the clinical lead for the Centric Dermatology Services. She is a graduate of The University College Galway (1998) She completed her specialist training in General Practice in 2004 and appears on the specialist register of The Irish Medical Council. Dr Healy has sub-specialised in Community Dermatology since 2010, completing a Dermatology Diploma in UCD in 2011. She is a member of The Primary Care Dermatology and Surgical Societies in Ireland. Also trained in Aesthetic Medicine, she holds advanced certification in the delivery of dermal injectables and anti-wrinkle injections. She is also certified in laser and light treatments.
Dr Healy's particular areas of interest and expertise include the comprehensive treatment of acne, inclusive of roaccutane treatment, the appraisal of sun-damaged skin and the management of pre-malignant and malignant skin lesions.
How to Book an Appointment
GP Referral:
If you are a GP and wish to refer your patient to our dermatology service, please complete the Healthlink Referral Form (we are listed as a private hospital).
We also accept faxed or emailed referral letters:
Email – dermatology.blackrock@centrichealth.ie
Self-Referrals:
If you do not have a GP referral, you can still avail of our dermatology services and book a consultation with our GP Specialist. Please contact us on dermatology.blackrock@centrichealth.ie or call (01) 2888363 and we will assist you.
How Much it Costs
| | |
| --- | --- |
| Consultation [1] | €180 |
| Mole Screening [2] | €200 |
| Follow up acne consultation | €120 |
| Follow up with bloods    | €140 |
| Minor procedure  [3] | €100-320* |
| Follow up post procedure  | €80 |
** Please note that medical dermatology procedures are covered by many private healthcare insurance plans either in part or in full. Please contact your Health Insurance Provider for more information.
You may be eligible for a partial reimbursement of consultation costs if GP benefit is included in your private insurance plan. PAYE patients can also claim tax relief for medical health expenses by completing an income tax return.
[1] 'Pay and claim' policy for private Health Insurance holders. You can claim consultation charges under any GP benefit you may have with a private health insurance company.
[2] 'Pay and claim' policy for private Health Insurance holders. You can claim consultation charges under any GP benefit you may have with a private health insurance company.
[3] It will be assessed individually based on your skin concern
Practices that also provide Dermatology Blackrock Medical