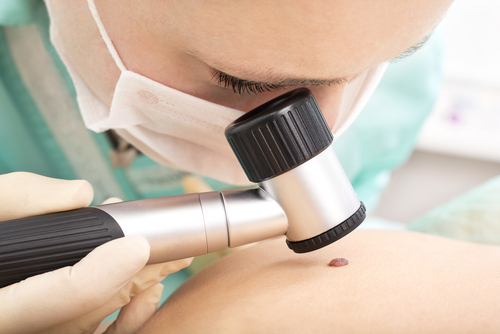 General Dermatology (incl. all types of skin rashes)
Eczema,
psoriasis,
acne Urticaria,
pruritis Atopic dermatitis,
allergic and irritant contact dermatitis
Difficult to treat rosacea
Undiagnosed eruptions and rashes
Infective skin conditions, fungal infections
Other non-urgent dermatological concerns
Mole Screening - assessments and procedures (biopsy, excision).
Comprehensive dermoscopic evaluation and diagnosis of pigmented and non-pigmented skin lesions allowing for rapid assessment with escalation to minor surgery on site (biopsy, excision) or plastic surgery if required.
Cryosurgery for any benign suitable e.g. seborrheic keratosis.
Acne (incl. roaccutane prescribing)
Acne is one of the most frequently treated skin conditions in our clinic. We appreciate that Acne can be very distressing for our patients, negatively impacting not only their comfort and appearance but also detrimentally impacting mental health.
We take a 360 approach to acne treatment to include topical skincare treatment, dietary and lifestyle advice and the prescribing and close monitoring of Roaccutane treatment if necessary. Following a visit for your blood tests, all appointments can be conducted remotely if preferred. The opening of our New Acne Clinic will ensure safe, convenient and affordable access to Roaccutane for all patients.
Minor Surgery
Minor Surgery is any surgical procedure that does not involve general anaesthesia or respiratory assistance during the surgical procedure.
Minor Surgery procedures include, for example:
Skin tags
Skin cysts
Incision and drainage of an abscess
Warts Mole removal
Biopsy of growths
Verrucae
Ingrown toenail removal
WHAT TO EXPECT
Minor surgery is usually carried out on an out-patient basis. Prior to any minor surgery the doctor will conduct an initial consult to confirm a diagnosis and a plan for the procedure and gain informed consent. The only part of minor surgery that may hurt is when the local anaesthetic is administered, after this the procedure is pain free. The length of time the procedure will take is dependent on the condition being treated and can range from 10 minutes to a half hour or more. Your doctor will also advise if more visits are required to treat your condition.
AFTER MINOR SURGERY:
Should you have a wound, your doctor will give you instructions on how to look after it in order to keep it clean and free of infection until it has healed. You may also need to take painkillers to relieve any discomfort or antibiotics to prevent infection. After some minor surgery you may feel a little faint or uncomfortable and may need someone to take you home You will be given a follow-up appointment and you may also need to have stitches removed